Four Winds Lodge Noojimowigamig — The Healing Center — utilizes the Anishinaabe cultural approach, Bimaadiziwin, to clarify our beliefs in healing the whole person. The program lays the foundation integrating best practices in treatment of substance use disorders with a standard of cultural care and healing that helps our Native clients to work through issues of historical trauma and the impact of addiction on their lives.
Treatment Services
Services at Four Winds are designed to provide treatment for all Substance Use Disorders.
Treatment plans and length of stay is determined on an individualized basis and managed through a multidisciplinary team that considers all dimensions of recovery, including physical health, mental health, spiritual health, and cultural health as well as the need to manage life issues that will help to build a solid foundation for recovery.
In addition, there is regular family programming to help participants begin to rebuild damaged relationships.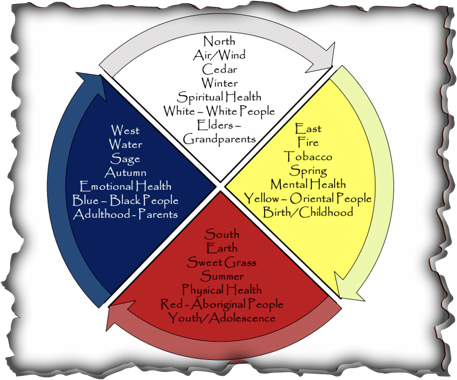 Cultural Curriculum
"Many paths up the same mountain"
Since its start, Four Winds Lodge has tried to keep the Indigenous culture and spirituality alive by incorporating traditional values and teachings within a 12-step program. Native people from across the country come here to heal together in a familiar community setting.
In any strong community lies healthy communication and respect of others' views and teachings. Four Winds strives to use the Ojibwe (Anishinaabe) teachings and way of life while considering the many other paths and ways of life of the people we encounter.
Bobby Eagle, a member of the Mille Lacs Band, brings traditional Midewin and Big Drum Society experiences to the community members. Through first-hand experience at ceremonies and the teachings, along with harvesting sacred plants and food, Bobby brings the people back to the basics of the Indigenous people of the area. Dylan Adams, a member of the Leech Lake Band, brings a practical and universal approach to spirituality. Recognizing the diversity of those we serve here at Four Winds, Dylan incorporates teachings from his Ojibwe nation but also recognizes the importance of "finding the medicine talk" within all four colors of man. Dylan also gets back to basics in his way to spirituality by identifying the key components to any good way to live life.
The Ojibwe people have a way to achieve a good way of life through their seven teachings. From using the latest methods in therapy to sticking to the basics, Four Winds Lodge brings the people toward a balance of living in the modern society while holding onto our values and traditions. It is through a diverse approach that we may get closer to living by those seven teachings.
Four Winds Lodge is currently developing a curriculum for guests to learn traditional survival skills. The classes and experiences will coincide with the seasons and what is typically foraged or processed at that time of year. From sugarbush camps in the spring, ricing in the fall, lodge building, and processing sacred medicines throughout the year, the community members can be a part of the reestablishment of our traditional ways.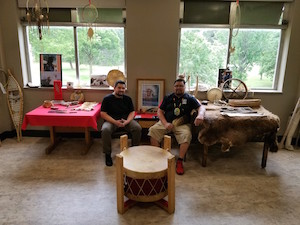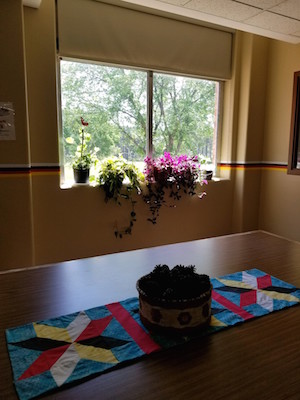 Counseling Services
Upon admission, clients are assigned a primary counselor, who works with each individual person to create initial treatment planning based on strengths, goals, needs, and objectives. During their stay, treatment planning is adapted as seen or suggested to ensure that client's needs are addressed as a whole person. We adapt our offered programming and approach based on clients' needs. By doing so, areas of need can be addressed including physical health, mental health, spiritual health, and cultural health. Counselors have a maximum caseload of eight clients to maintain an individually balanced working relationship. Here at Four Winds Lodge we also have a Licensed Psychologist who provides mental counseling for historical trauma, grief, loss, anxiety, family of origin, depression, and other issues.
Medical Care
The Medical department at the Four Winds Lodge focuses on the requisite knowledge, skills, and abilities to care for persons with substance use, abuse, and addiction issues. Providing patient-centered care through prevention, screening, treatment, and recovery services is best brought about when multidisciplinary teams work together to accomplish effective and successful patient care outcomes.
Multidisciplinary collaboration utilizes the Institute Of Medicine's core competencies of evidence-based practice and quality assurance to promote positive lifestyle changes. Four Winds Medical department uses their skills and knowledge base for collaborative practice with health care colleagues to further patient-centered care for those with substance use disorders.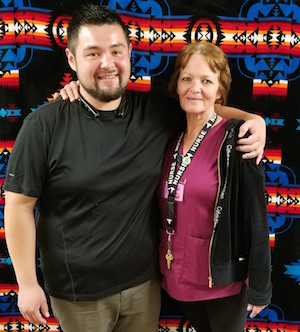 Admission Procedures
Individuals enter Four Winds through referrals from tribes, social service departments, physicians, the court system, former clients, friends, and family. Admissions are coordinated through our intake staff. They can assist to gather admission information, provide program information, and reserve admission dates.