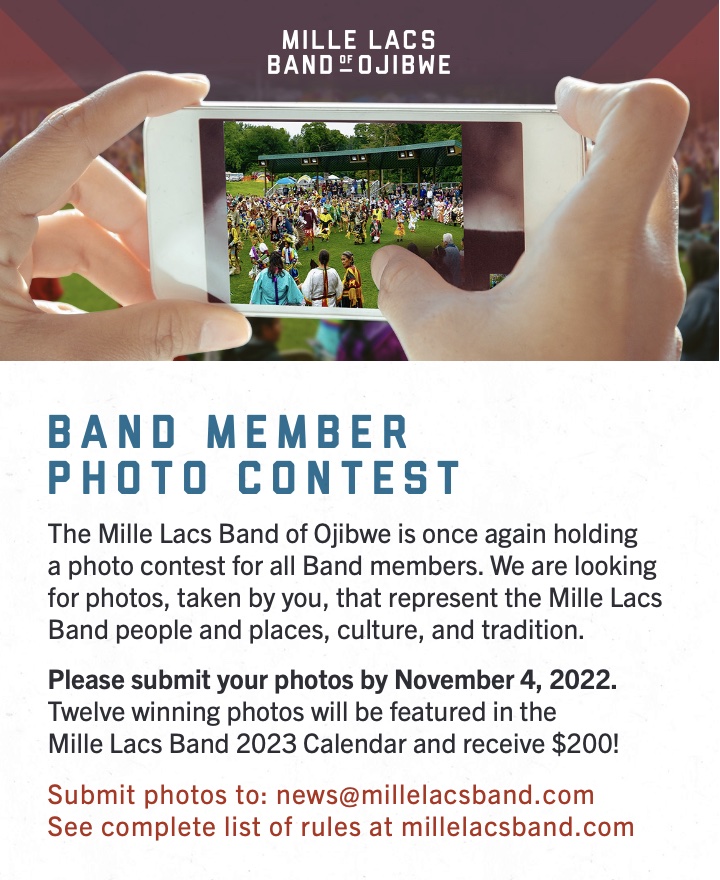 Mille Lacs Band member Photo Contest Official Contest Rules
Who Can Enter?
To be eligible to participate in this contest, entrant must be a Mille Lacs Band member.
How to Enter
Email photo to news@millelacsband.com with a written quote or message about your photo. Photograph must be high resolution (400dpi would be ideal, will accept 300dpi).
a) Only one entry allowed per band member.
b) No purchase is necessary to enter.
c) No mechanically reproduced or completed entries will be accepted.
d) No lewd, nude, crude, or offensive photographs will be accepted.
e) By entering, entrants represent and warrant (that they own the picture submitted, and it does not violate the rights of any third parties).
f) By entering, you acknowledge that Mille Lacs Band of Ojibwe has the right to publicize your name, character, likeness, photograph, voice and the fact that you are the winner for promotional purposes without financial remuneration.
g) Mille Lacs Band of Ojibwe reserves the right in its sole and absolute discretion to disqualify any entry.
h) All entries must be received by news@millelacsband.com by 4pm on November 4, 2022. Mille Lacs Band of Ojibwe is not responsible for lost, late, or misdirected entries, printing errors, server unavailability, computer, or any other electronic malfunction.
The Prize(s)
Twelve (12) winners will be selected. The winners will receive: Two hundred dollars ($200) and be published in the Mille Lacs Band calendar.
Each winner will be contacted via email and announced at State of the Band 2023.
The winner must provide his/her correct name, address, and telephone number to Mille Lacs Band of Ojibwe at the time of notification.
Each winner must sign and return a release and affidavit of eligibility, which must be received within fourteen (14) days of notification, at the time each winner claims his/her prize in person at Mille Lacs Band of Ojibwe. If a winner is a minor, then the winner's parents or guardian must sign a release and affidavit of eligibility before the winner receives his or her prize. Each winner must show picture identification to claim prizes. Mille Lacs Band of Ojibwe reserves the right to examine additional identification and may choose to accept or deny awarding the prize based on the identification presented.
Each winner is responsible for paying all local, county, state, and federal taxes on prizes based on the estimated retail value of the prizes as set forth in these rules. Each winner must complete and sign a Form W-9.
Mille Lacs Band of Ojibwe reserves the right to make rules and contest changes, and change the aforementioned contest dates.
By entering this contest, each entrant waives any and all claims of liability against Mille Lacs Band of Ojibwe, and their respective parents, affiliates, officers, directors, employees, and agents, for any and all claims, loss, damage, or injury which may occur as a result of entrant's participation in this contest.
For questions, please email news@millelacsband.com.

Find the most up to date news at Inaajimowin.com