To ensure the safety and security of Band members and local communities, the Mille Lacs Band has a Tribal Police Department, which began in 1984 with one officer and has grown to employ over 20 full-time officers. The Tribal Police Department is located in the Mille Lacs Band Government Center.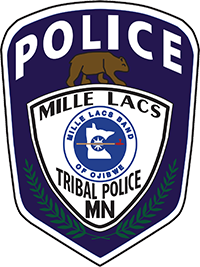 The Tribal Police Department exercises police authority under federal, state, and tribal law. Its federal and inherent tribal jurisdiction extends throughout the Reservation and to off-reservation trust lands. It also has concurrent jurisdiction with the Mille Lacs and Pine County Sheriffs under state law. Within Mille Lacs County, the department has state law jurisdiction over all persons on trust lands; all tribal members within the boundaries of the Reservation; and all persons within the boundaries of the Reservation who commit or attempt to commit a crime in the presence of a Band police officer. Within Pine County, the department has state law jurisdiction over all persons on the Band's trust and fee lands as designated in an agreement with Pine County. The department also has certain out-of-jurisdiction authority under state law.
In 1953, Congress enacted Public Law 280, in part because of the absence of adequate tribal institutions for law enforcement. Public Law 280 applies to six states, including Minnesota. It required the state to assume criminal jurisdiction over all Indian reservations within the state with the exception of Red Lake and Bois Forte. That jurisdiction does not extend, however, to statutes the courts classify as "civil-regulatory" rather than "criminal-prohibitory" under Public Law 280.
According to Minnesota Statute 626.90, the Tribal Police Department's jurisdiction is tied in part to the boundaries of the Reservation as defined by the Treaty of February 22, 1855. The 1855 Reservation includes the townships of Kathio, South Harbor, and Isle Harbor in Mille Lacs County. Additional Mille Lacs Band trust lands are located in Aitkin and Pine counties and considered informal reservations.
The Mille Lacs Tribal Police Department is dedicated to protecting and serving the community, and is relentless and unwavering in their commitment to investigating drug-related crimes, particularly those relating to the opioid epidemic. To this extent, TPD worked side-by-side with the Bureau of Indian Affairs Division of Drug Enforcement (BIA DDE) in a roughly seven-month-long investigation that resulted in a 10-count indictment in federal court. Ultimately, one individual has been sentenced on November 20, 2019, to 77 months in federal prison for his role in a heroin distribution conspiracy that targeted the Mille Lacs Band of Ojibwe Reservation and surrounding communities.