Mille Lacs Band Family Healing to Wellness Court
Noojimo'wiigamig Inaawaniidiwag (Healing Journey)
The Noojimo'wiigamig Inaawanidiwag program helps Mille Lacs Band families impacted by substance abuse by a cooperative process grounded in Band culture and traditional teachings as an alternative to the usual child protection court process. Children may be reunified with their parents sooner and have shorter stays in foster care.
Title 5, Chapter 4 of the Mille Lacs Band Statutes established the program and provides details.
Noojimo'wiigamig Inaawanidiwag focuses on parents, guardians, or custodians whose substance abuse contributes to a child's neglect or abuse—resulting in the family becoming involved in child protection proceedings. This voluntary, confidential program uses a team of professional and cultural advisors to collect and coordinate the services and resources needed to help a child's caregiver become and stay sober.
Substance Abuse Treatment & Testing
Assessments for substance use disorder are provided, recommendations for treatment are offered, and random drug testing is conducted to support sobriety.
Cultural Connections
Assistance is offered to connect to Band cultural resources, traditions and customs, and Anishinaabe values to help in the healing process.
Counseling Services
Referrals are made for mental health assessments and individual and family counseling for trauma, grief, loss, anxiety, family of origin, depression, and other issues.
Medical Care
Referrals are available for patient-centered medical care through prevention, screening, treatment, and recovery services for those with substance use disorders.
Peer & Group Recovery Support
Support for substance use recovery with the assistance of peer supports or connections to a variety of recovery groups are offered.
Housing Location Aid
Help is available to address housing eligibility barriers and to locate and apply for housing.
Education & Employment Guidance
Referrals for assistance to obtain a high school diploma or GED, preparation for job applications, and to find employment are offered.
Parenting Time & Education
Coordination with Mille Lacs Band Family Services to ensure parents can have time with their child and to obtain education on how to parent better can be arranged.
Transportation
Transportation for treatment, counseling, medical appointments, parenting time, and participation in cultural or family events is provided.
The purpose of the Family Healing to Wellness Court is to bring together healing services, cultural resources, and substance use treatment by using an enhanced team approach. Band children and families impacted by substance abuse and mental health disorders are better served by a cooperative process grounded in Mille Lacs Band culture and traditional teachings as an alternative to the usual child protection court process.
To be eligible for Noojimo'wiigamig Inaawanidiwag, an individual must be a parent, guardian, or custodian caring for a child who is either: (1) a Mille Lacs Band enrolled member, (2) eligible for membership in the Band, or (3) a Band member descendant, and the child must be the subject of a child protection case. The caregiver must also be: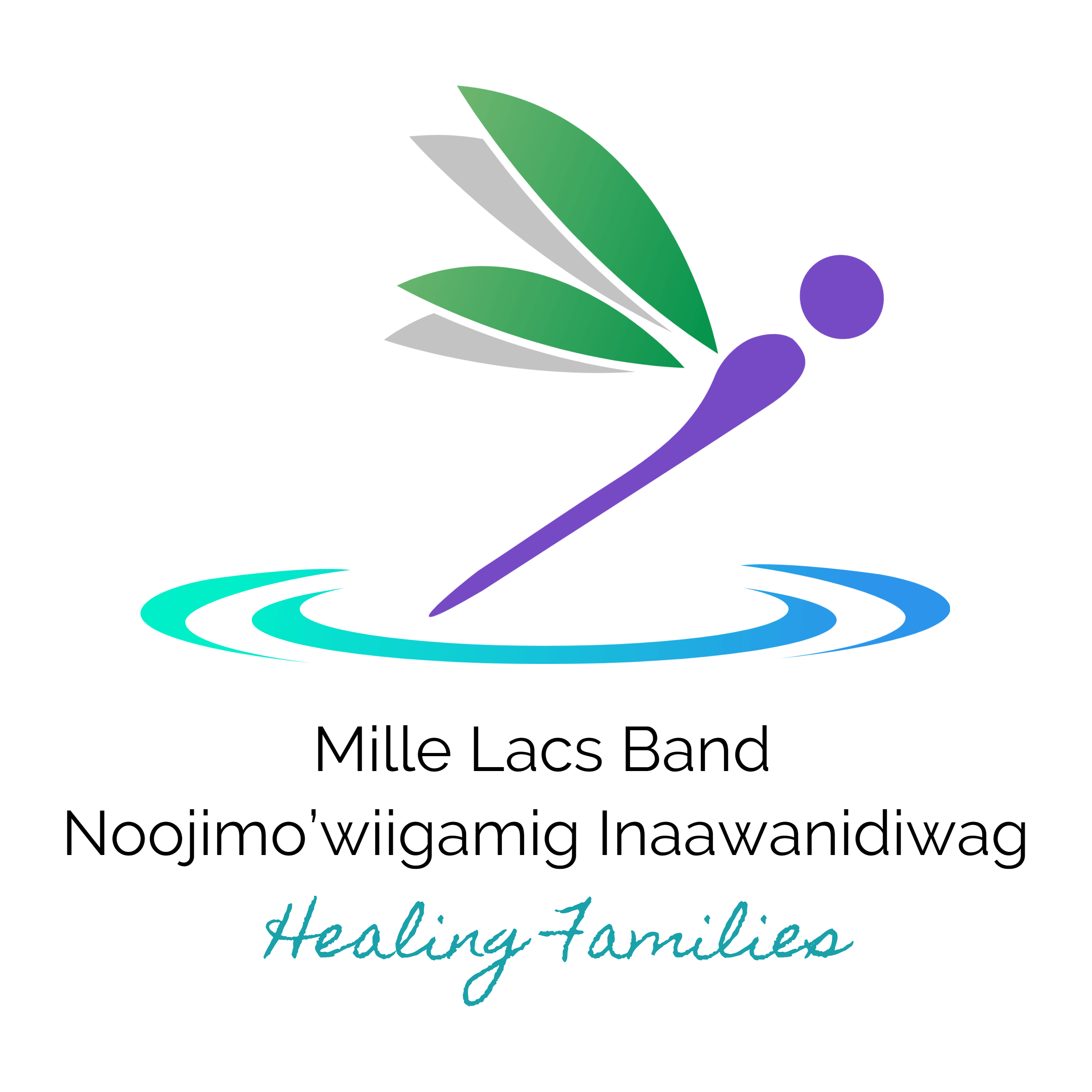 Diagnosed with a substance use disorder condition.
Willing to follow treatment recommendations.
Ready and able to comply with the program's requirements.
Willing to execute release to share of information with the Healing Journey Team.
Not a violent offender or perpetrator of sexual abuse or felony child abuse.
Noojimo'wiigamig Inaawanidiwag has four phases that start a child's caregiver on the road to sobriety and sustain long-term recovery. Healing from addiction and learning new tools to avoid substance abuse takes time so the program can be from 12 to 18 months long. Although the program may seem long in duration, children are returned to the custody of their caregiver sooner as compared to the regular court process, which can take more than two years for children to leave foster care.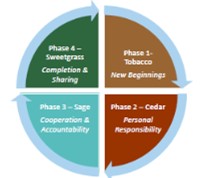 The four phases are represented by Ojibwe sacred medicines:
Phase 1—Asaama (Tobacco) New Beginnings
Phase 2—Giizhik (Northern White Cedar) Personal Responsibility
Phase 3—Mashkodewashk (White Sage) Cooperation and Accountability
Phase 4—Wiingashk (Sweetgrass) Completion and Sharing
Phase requirements are listed in the Noojimo'wiigamig Inaawanidiwag Participant Handbook.
To be admitted to the Family Healing to Wellness Court, a child's caregiver must file a Petition for Admission with the Mille Lacs Band District Court. After the petition is filed, the Healing Journey Team reviews the petition to decide whether to admit the caregiver to the program according to a four-step process:
Step 1. The caregiver meets with the Wellness Court Case Manager and once eligibility for the program is confirmed, the caregiver receives a substance abuse assessment and treatment recommendations, if needed.
Step 2. The Healing Journey Team meets and reviews the petition and the substance abuse assessment and decides whether to recommend admission into the program.
Step 3. Once the Team recommends admission into the Wellness Court, the caregiver meets with the Case Manager to develop a Wellness Plan
Step 4. If the caregiver agrees to comply with the program requirements and the Wellness Plan, the judge grants the petition and issues an order admitting the petitioner into the program.
Oversight
The Mille Lacs Band's Chief Executive, Chief Justice, Speaker of the Assembly and District Representatives have overall oversight responsibility for the effectiveness of the Family Healing to Wellness Court.
Steering Committee
A Steering Committee with members designated by the Mille Lacs Band District Court Judge provides advicesand guidance in the development of Noojimo'wiigamig Inaawanidiwag procedures and addresses any gaps in treatment or services needed by program participants.
Healing Journey Team
A team of individuals work daily with each Healing Journey participant ensuring that services are provided, that program requirements are being complied with, and that progress toward sobriety and family reunification is celebrated. The core Healing Journey Team members include:
Tammy Swanson
Special Magistrate
Presiding Judge
Gilda Burr
Court Administrator
Kerri Johnson
Band Member Legal Aid Director
Laurie Vilas
Tribal Court Peacemaker
Theresa James
Healing to Wellness Court
Case Manager
Pamela Chichila
Guardian ad Litem
Arlene Bentley
Court Clerk I
Abigail Waaranemi
Family Services
Lead Social Worker
Chandell Boyd
Assistant Director
Substance Use Disorders
Department
Christa Danko-Shaller
Deputy Solicitor General
Joe Nayquonabe
Band Elder & Cultural Advisor
Crystal Weckert
Behavioral Health Therapist
Rachel Boyd
Case Manager
Aanijbimaadizing
Ogimaa Giniw (Bobby Eagle)
Cultural Advisor &
Four Winds Representative
Derrick Naumann
Sergeant, Tribal Police